REVOLUTIONARY THERMAL PROTECTION OF BUILDINGS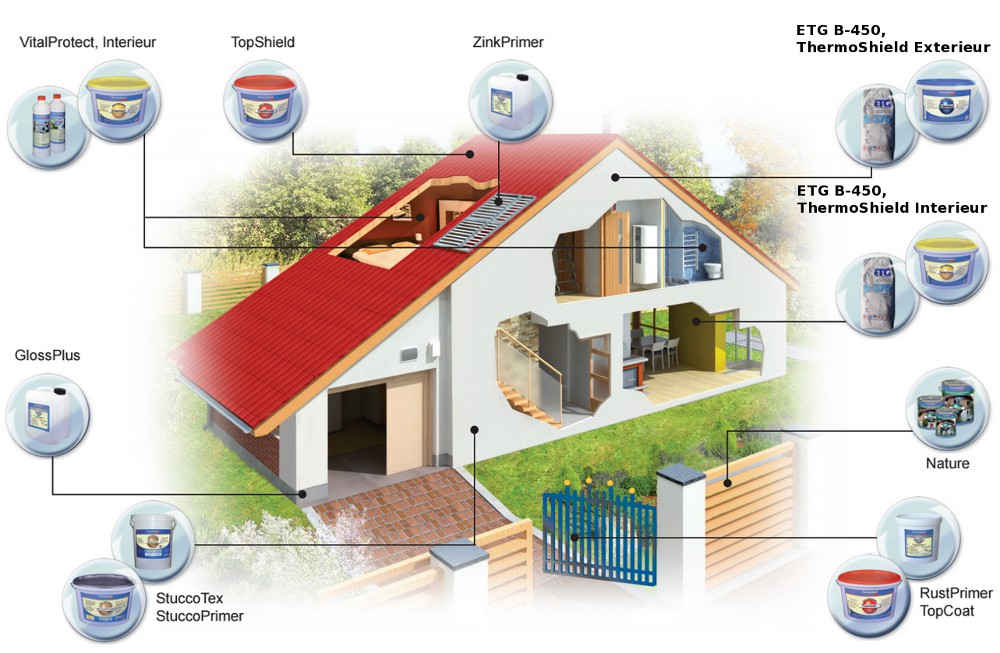 Interaction principles of ThermoShield®+ETG system
When applied on a facade, ETG plaster operates as a membrane remediation. ETG plaster is permeable to moisture, which leaves masonry in a form of vapour.
Unique qualities of ETG plaster ensure the moisture is drained from walls and interior regularly; this improves insulating properties of masonry i.e. it increases the value of the thermal resistance of building structures.
ThermoShield® creates a protection shield, on top of thermal insulation plaster ETG, which due to its unique composition diverts moisture from the masonry (walls) and prevents it from returning back from outside of the construction. ThermoShield® ensures thermal stability, thus prevents degradation of masonry (which normally appears due to high temperature differences).
ThermoShield®+ETG system is ideal for modern ecological buildings as well as for renovated buildings. Applied system represents a compact insulating layer in terms of the structure, which is composed of light and solid granular silica balls
Application of thermal insulation system ThermoShield®+ETG requires minimal effort and after completion creates a single massive layer without stains and thermal bridges. ThermoShield® +ETG system reaches its full operation in about 30 days after application.
Energy-saving ceramic coating ThermoShield®and ETG plaster form together a perfect system for the 21st century in the field of thermal protection of new and renewed buildings.